We are honored that you have visited our website. We would like to help you know Jesus better and become a great winner in life.

Our Purpose is to be a church family where everyone is important. The Savior is important. Those Seeking are important. And the Saved are important.


Our Outreach
»
We are an outreach church in a casual country setting. Our desire is to bring calm and confidence to you and in your home through the comfort of the Scriptures.

»
We offer in-home Bible lessons that meet your needs.

»
God made you important and we would feel privileged to have you visit us or call (641-682-1013).

~ Dick & Nancy
Our Sunday meetings of friendship and encouragement are 10:00 am and 6:00 pm. Wednesday evening small groups in a home setting.

Do you need some friends who care and can help you?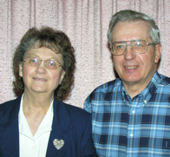 Dick & Nancy Ellis